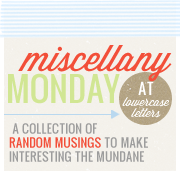 1. Netflix - in love
My parents were gracious enough to give us an AppleTV for Christmas and I have used my Netflix subscription to the fullest. (Finally) Lately I've been glued to rewatching Grey's Anatomy from the very beginning. Yes, I've seen every episode but I like to remind myself that Season 1 and the first half of Season 2 were the absolute best.
2. Bradford Pear Trees are the devil
I'm convinced that these beautiful trees are born from the devil. Yes, they're gorgeous to look at and are the first sign of spring around here. However, my allergies and sinuses beg to differ. Which leads me to...
3. Sickness
I'm sick and not too happy about it. My head feels like a giant is squeezing it in a vice grip.
Cue
Sad Trombone
4. Running
I've been a super-slacker and haven't run in a week. However, when my head hurts to take two steps, I can't even imagine what running would feel like.
5. Pageants
Over the weekend, C and I went to the local university pageant. We had a great time! However, just a word of advice to all contestants...brush up on current events. That's all I'm saying.